envoPAP – reinventing paper to save trees
envoPAP is a UK-based paper supplier who thrives to improve the sustainability of businesses by providing a range of tree-free, carbon-neutral, paper-based products made from sugarcane fibre residue, otherwise known as bagasse.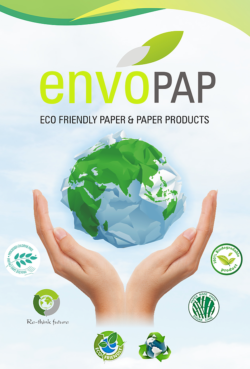 The company's flagship product, also called envoPAP, is used for copier and offset printing and it is made from 80% sugarcane agro-waste. In this circular process, waste from one process (sugar production) becomes the main raw material for another (paper production). This allows a transition from the need to use trees to create paper, and towards a more sustainable, environmentally friendly solution.
To diversify the company's products, Kaushal Shah, founder of envoPAP, applied to join the Sustainable Technologies Business Acceleration Hub (STBAH) business support programme, which provides bespoke sector-specific support to start-ups or SMEs. The STBAH is associated with the Centre for Sustainable and Circular Technologies (CSCT) and is funded through the European Regional Development Fund (ERDF).
After a first meeting with STBAH, it became clear that a research collaboration was needed for envoPAP to get into the market of biodegradable food packaging and personal care products. Professor Janet Scott and Professor Matthew Davidson, both from the CSCT, started working with Kaushal to develop an in-depth understanding of the barrier properties of existing polymeric and composite materials. This formed a key component of future grant applications, and the resulting know-how allowed for the rapid co-development of novel coated bagasse paper products.
Talking about the research project, Professor Davidson said: "Funding was secured for Dr James Courtenay, then a CSCT PhD student, to collate and evaluate the research and patent literature on the barrier properties of fossil and bio-based polymers. The resulting report allowed envoPAP to determine their next steps.
"envoPAP has been founded with sustainability and technology at its core as providers of paper-based products. This project facilitated knowledge exchange from the University of Bath, and enabled envoPAP to provide significant impact from the work that was done in Bath."
Talking about STBAH and the support received, Kaushal Shah said:
"Working with the University of Bath has given envoPAP the opportunity to develop diverse products which will lead to more biodegradable packaging. (…) We believe that conservation of resources is the path of sustainable development and our primary responsibility.
"Finding expert advice and innovative solutions to address complex issues can be a daunting process, but the expertise from researchers at the University of Bath has been an invaluable part of the process for envoPAP. The free business support programme also helped us address certain issues around scale-up and investment strategy. I would absolutely recommend any start-up or SME innovating in sustainable technologies to sign up to the STBAH programme, and find out what avenues and opportunities are available to help their business growth plans. I'm really excited to now be at the stage of further product development".
In 2018 envoPAP was a finalist in the Green Tech Challenge – an investment competition for green businesses who have the potential to disrupt traditional supply chains. The company has already achieved over two years of successful trade.
This project is funded through the EPSRC Impact Acceleration Account, an institutional grant at the University of Bath (Grant Ref: EP/R51164X/1), which contributed to the Sustainable Technology Commissioned Fund.
STBAH is also partnered with the University of Bath and the business incubator SETsquared.