< Back to articles
I-SEE/CSCT Webinar — The Circular Economy in Action
By Jie Zhou, Learning Project and Research Manager, Ellen MacArthur Foundation
Date: Tues 16 Feb 2021
Time: 4.30-5.45pm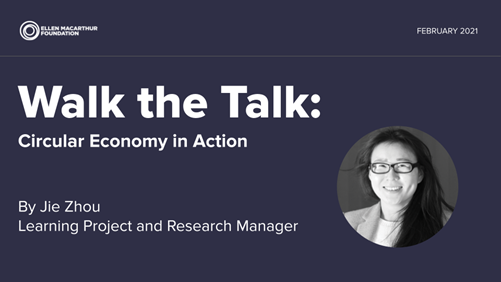 The Covid-19 crisis has disastrous human and economic consequences, revealing our system's exposure to a variety of risks. The call for a more resilient, circular and low-carbon economic model has garnered support from a growing number of businesses and governments over the past few years, and appears today more relevant than ever.
Looking beyond the current take-make-waste extractive industrial model, a circular economy aims to redefine growth, focusing on positive society-wide benefits. It entails gradually decoupling economic activity from the consumption of finite resources and designing waste out of the system. Underpinned by a transition to renewable energy sources, the circular model builds economic, natural, and social capital.
Transitioning to a circular economy does not only amount to adjustments aimed at reducing the negative impacts of the linear economy. Rather, it represents a systemic shift that builds long-term resilience, generates business and economic opportunities, and provides environmental and societal benefits.
However, it's not easy to change the system and it sometimes means radical changes in policy-making, business model innovations, learning & education, jobs & skills, even every consumer's choice on a daily basis. Who are the frontrunners and what they are actually doing? This session will be looking at the circular economy in action and learning from their success and failure.
Jie Zhou is the Learning Project and Research Manager at Ellen MacArthur Foundation. She manages the higher education demonstrative projects in London, New York, Shanghai, and San Paolo at the Foundation. She has a decade of consulting experience in the field of the circular economy, climate change and sustainable business. Specialising economics and policy of energy and the environment in developing countries, she led the first city-level carbon emission peak research back in China (2013). She was also the co-author of the ground-breaking report "The Circular Economy Opportunity for Urban and Industrial Innovation in China"(2018). She holds an MSc degree from The Bartlett, University College London, and is pursuing a part-time masters degree of Sustainability Leadership at Cambridge University.