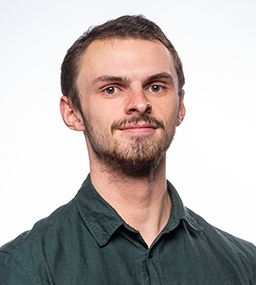 Calum Hand
Calum graduated with a BSc in Medicinal Chemistry from the University of St Andrews in 2016 and a Masters of Research in Green Chemistry from Imperial College London in 2017. As part of his Master's thesis, Calum successfully synthesised novel monomers for organic photovoltaics and investigated a range of compounds using computational methods.
After graduating, Calum worked for RIMES – a leading financial data management firm – where he was rapidly promoted from a front line analyst to the account team handling the firm's largest client. Calum decided to return to chemistry to investigate how big data can be used to accelerate sustainably driven research and development. Calum's first MRes project with the CSCT successfully used machine learning algorithms to identify high performing materials from large databases and construct quantitative structure property relationships.
In his spare time, Calum enjoys working on his own programming projects and is also studying data analysis and machine learning courses to complement his research interests. Calum also enjoys hanging out with friends after a day in the lab, training in martial arts, and making bad puns whenever the opportunity arises.
The next generation of materials discovery – creating tools to break the rules with Professor Tina Duren, Dr Tom Fincham Haines and Dr James Hook – PhD Project
Porous materials screening for sustainable applications with Professor Tina Duren, Dr Matthew Lennox and Dr James Hook – 1st MRes project
Chemical routes for busting the cold chain supply dependence for vaccines and other biopharmaceuticals with Dr Asel Sartbaeva, Professor Jean van den Elsen and Dr Francoise Koumanov – 2nd MRes project
Read more about Calum's research