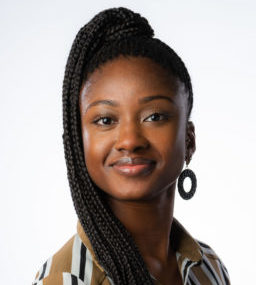 Lorraine Amponsah
Lorraine graduated from the University of Brighton with a BSc in Chemistry. During her third year, she embarked on a 13-month internship with BMW as a Product Specialist Chemist. It's here that she gained an appreciation for 'all things Automotive' and an understanding of the properties of fuels and machining-fluids. She later went on to complete her Masters in 'Catalysis: Chemistry & Engineering' at Imperial College London, which constituted a 9-month research project on "Transition metal-catalysed carbonylation reactions in flow". Following this, she worked for Johnson Matthey in the Clean Air sector, as a Chemist developing catalytic Gasoline Particulate Filters (GPFs) and facilitating scale-up.
Through her PhD, she now aims to develop an Engineering skillset within the context of sustainable and renewable energy technologies.
Lorraine enjoys meeting new people and learning about different cultures, so studies languages and watches international movies in her spare time. She is artistic so, where possible, seeks a creative outlet. She also has a penchant for crime documentaries, escape-rooms and chai tea lattes.
Evaluating the Economic, Technical and Environmental Feasibility of a Marine Biorefinery with Professor Chris Chuck, Dr Hannah Leese – PhD Project