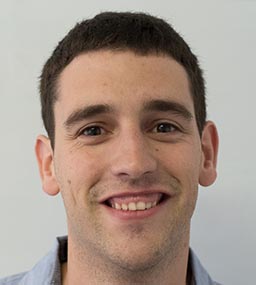 Oriol Escursell
Oriol graduated from the Autonomous University of Barcelona with a BSc in Environmental Science in 2014. During his degree he undertook an internship at a water treatment plant. Afterwards, he studied an MSc in Renewable and Sustainable Energy at the University of Barcelona and worked in an energy consultancy as part of his internship. He decided to travel abroad to learn new cultures and meet interesting people. In order to do so and to collaborate to ensure a sustainable future for our society he enrolled on the CSCT programme to pursue a PhD. In his free time Oriol enjoys reading, playing board games and walking.
The fractionation and concentration of whey protein and casein streams from skimmed milk with Dr Michael Bird, Professor Barbara Kasprzyk-Hordern, Professor John Chew and Dr Jannis Wenk; Industrial Partner: Tetra Pak – PhD project
The quantification of whey protein fractions from casein fractions in microfiltered pasteurised skimmed milk with Professor Barbara Kasprzyk-Hordern and Dr Michael Bird— 2nd MRes project
Minimising water consumption in membrane filtration of whey protein streams with Dr Michael Bird, Professor Barbara Kasprzyk-Hordern, Dr John Chew, and Dr Jannis Wenk — 1st MRes project
Oriol is an MSCA-FIRE fellow.
Read more about Oriol's research