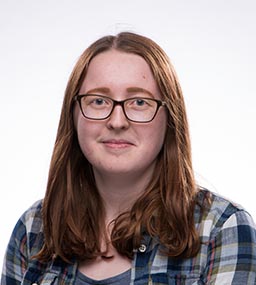 Philippa Kearney
Philippa graduated with an MChem from the University of East Anglia in 2017. During her degree, Philippa researched 'Electrochemical Polymerisation for Supercapacitor Materials' under the supervision of Prof. G. Wildgoose, and undertook a Royal Society of Chemistry placement investigating 'Copper-Based Nanomaterials for Dye Sensitised Solar Cells' with Dr J. Fielden.
Her current research focusses on the sustainability of natural aquatic environments, with specific areas of interest in emerging pollutants, water processing, and the use of electrochemical techniques for environmental management.
When Philippa is not researching, she is involved in student support, outreach, and digital engagement with the University of Bath Doctoral College and the CSCT.
Removal of endocrine disruptor BPA from water with Professor Petra Cameron, Professor Babara Kasprzyk Hordern, Professor Peter Wilson and Dr Mirella Di Lorenzo; International Partner: Stellenbosch – PhD project

Radio Frequency Heating for Controlled Crosslinking in Cellulose with Dr Alfred Hill and Professor Janet Scott — 2nd MRes project
Removal of endocrine disruptor BPA from water with Professor Petra Cameron and Dr Salvador Eslava — 1st MRes project
Read more about Philippa's research