< Back to articles
CSCT Summer Showcase 2021 – Race to Zero
2021 CSCT Summer Showcase – Race to Zero
The Centre for Sustainable and Circular Technologies is delighted to invite you to its 2021 Summer Showcase: Race to Zero
When: 7 – 9 July 2021, 11:00 – 15:00 BST
Where: Online, via Zoom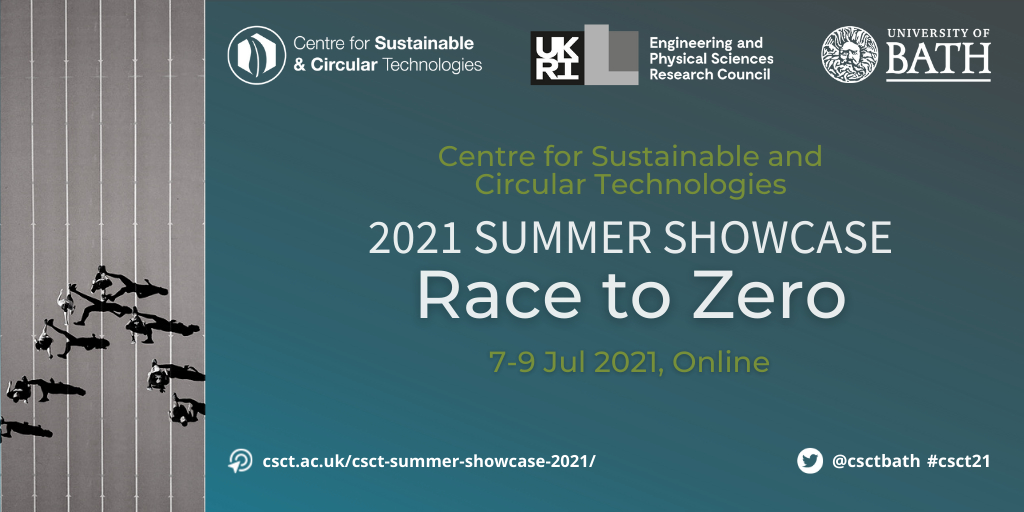 Join us to explore how science and technology can help governments and businesses across the globe in their Race to Zero – featuring guest plenary speakers, industry talks, TED-style talks, debates, PhD researchers' presentations and more!
Why should you attend?
Keep up to date with the latest developments and future trends in sustainable and green technologies;
Participate in a unique, multi-disciplinary conference;
Learn from a wide range of research topics presented by selected speakers;
Apply relevant ideas to your own work;
Network with key leaders and collaborators in academia and industry
Our speakers include:
Professor Paul Monks, Chief Scientific Adviser of the UK Department for Business, Energy and Industrial Strategy
Professor Sir Richard Catlow FRS, Professor of Catalytic and Computational Chemistry, Cardiff Catalysis Institute. Plenary: Catalysing C1 Chemistry for Sustainable Chemicals and Fuels.
Professor Mercedes Maroto-Valer FRSE, Director, Industrial Decarbonisation Research and Innovation Centre (IDRIC), Heriot-Watt University. Plenary: Accelerating the decarbonisaiton of industrial clusters for a green recovery.
Marco Mensink, Director General of Cefic (European Chemical Industry Council). Plenary: Molecule Managers: A safe and sustainable by design future chemical industry.
Franck Gouéry, Policy Officer for Climate Diplomacy/International Policy Dialogue, European Commission
Dr Meredith Williams,

Director,

California Department of Toxic Substances Control

Professor John Warner, Distinguished Research Fellow, Zymergen
Dr Jon Wagner, Co-Investigator, Interdisciplinary Centre for Circular Chemical Economy
Dr Craig Fairgrieve, Scientist, Unilever
Dr Dhivya Puri, Head of R&D, Fiberight
Illtud Dunsford, CEO and Co-Founder, Cellular Agriculture
REGISTER for each day of the Showcase using the below links:
We hope to see you all there!